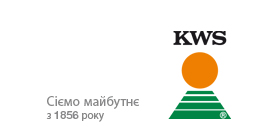 Already in 1900, KWS became the leader in world trade in sugar beet seeds and began to establish subsidiaries. In Ukraine KWS built its first plant seed in 1905, known as Vinnitsa seed plant.
In 2001 the subsidiary LLC "KWS-Ukraine" was founded, which provides seed production, marketing and agro services. KWS offers 13 hybrids of sugar beet, 20 maize hybrids and high-performance of hybrid of sunflower, fodder beet, winter rape, rye, spring barley varieties and potatoes to Ukrainian producers.
Hybrids and varieties of KWS are adapted to soil and climatic conditions of Ukraine, in particular moisture and heat insuring of specific stress agents, phytosanitary, entomological situation in different regions of cultivation.
KWS provides the Ukrainian market with unique seed of sugar beet, sunflower, oilseed rape and barley grown in South-Western parts of Europe and made on the modern seed plant in Einbeck and other plants in Europe
Seeds of maize and partly sunflower are bred in Ukraine under the supervision of KWS specialists. Whereas the original seed of parent components imported from Germany is used. Recently, in 2008, the company KWS built maize seed plant in Ukraine.