Seed Association of Ukraine welcomes the passing of another stage towards the recognition of seed certification system of Ukraine as equivalent to the requirements of the European Union!
The backing of the decision has been initiated by the EU Commission, with the start of the final stage of the EU legislative procedure, which has already begun.
Thus, on April 07 there was the publication of the EU commission proposal to include Ukraine to the list of the non-EU countries who can export their seeds to the markets of the European Union member-states -  https://ec.europa.eu/info/law/better-regulation/have-your-say/initiatives/12336-Recognition-of-equivalence-of-Ukrainian-provisions-on-certification-of-cereal-seed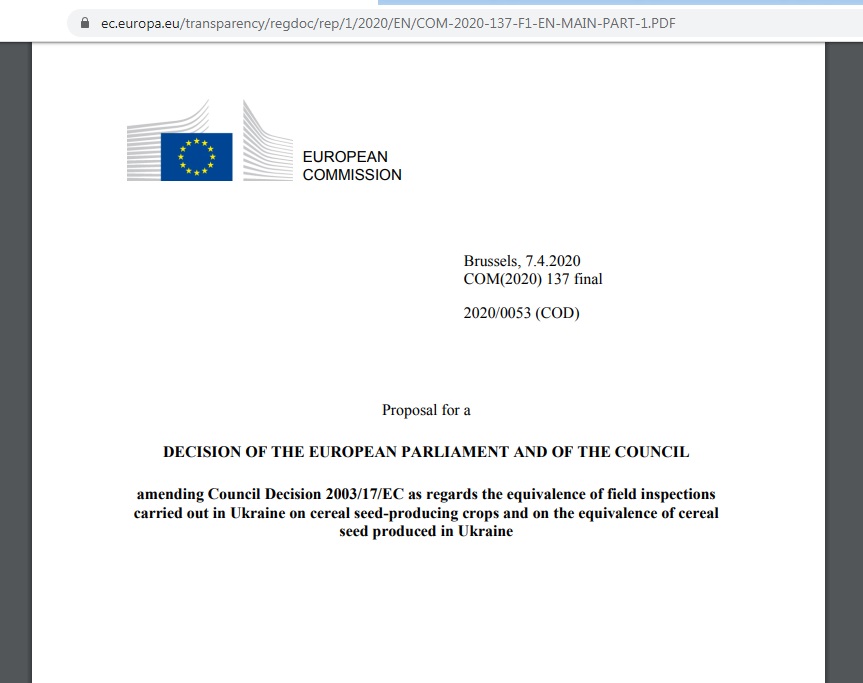 This is a so-called decision "On recognizing the seed certification system of Ukraine equivalent to the requirements of the European Union"
After the publication - from April 07 to June 02 - there will be period for receiving feedback/ comments on the draft on a special EU website (public discussion shall be lasting 8 weeks).
As it was informed in Seed Association of Ukraine, the finalization of the document should be completed by June 30, 2020 (the end of the presidency of Croatia in the EU Council).
Congratulations on the occasion of adoption of such decision we also expressed by the European Seed Association Euroseeds (union of the national seed association from the EU, with Seed Association of Ukraine being its member as well).
Specifically, Cesar Gonzalez, Manager Public Affairs of the Euroseeds said: "These are very good news!"
According to him the further review will follow the framework of the Ordinary Legislative Procedure of the EU. That means that the draft should be supported by both the European Parliament and the EU council.
After June 02, 2020, the EU Commission will formally submit the proposal to the EU Parliament and Council for the further adoption of the text and its publication in the official journal for the entry into force (in accordance with the draft's text - it will happen on the twentieth day following that of its publication)
The representatives of the Euroseeds Association promised to provide support on the draft document for approving the equivalence of the seeds from Ukraine at the stage of public consultations and encouraged everyone, who has such possibility, to back the document, as well.
This material was prepared by APK-Inform in the framework of information cooperation with Seed Association of Ukraine.